If you need a quick barre fix, or you live just too far away to make it to the Richmond Studio and attend our classes, go no further! Discover our highly-acclaimed WorkOuts in your own home, the office or on holiday. It couldn't be simpler, select individual videos, pay-as-you-go and enjoy full access for 48 hours from the time of purchase.
Take our 10-week Online WorkOut Programme. With suggested combinations and weekly schedules, we give you a guided and highly effective route to achieving a ballet body wherever you are and whatever your level of ability.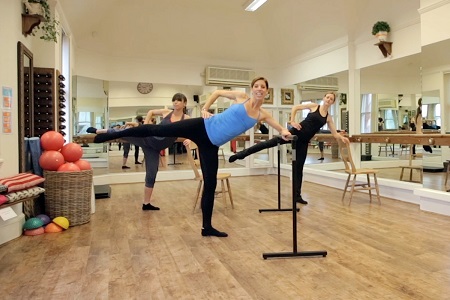 Beginner Barre WorkOut
Don't be fooled into thinking that our Beginner Online Barre WorkOut is a walk in the park…
The movements may seem uncomplicated, but they are still challenging! With modifications and progressions where you need them, this is the perfect introduction to the barre and a great WorkOut to come back to again and again…
1 hour
Intermediate Barre WorkOut
When you've mastered the Beginner class, step up to our Intermediate Online Barre WorkOut. As your technique improves, you'll begin to work on a whole new level of body/mind awareness…AND deep muscle activation.
1 hour
Advanced Barre WorkOut
Our Advanced Online Barre WorkOut offers fewer modifications, but more options for progressing to the next level with killer moves to up the anté and keep the results coming.
1 hour
Cardio Express WorkOut
Raise your heart-rate for a full half hour on our legendary foot-sliders. Spike your calorie burn and build even greater stamina for your barre WorkOuts.
30 mins
Arms & Abs WorkOut
Focus on developing arm strength and muscle definition alongside deep core activation work. All our favourite arm and abdominal exercises in one half hour WorkOut.
30 mins
Thighs & Seat WorkOut
For strong dancer's legs, take our 30-minute 'Thighs & Seat' WorkOut. Discover muscles you didn't know you had and develop strength and definition with immediate effect.
30 mins
Fusion Express WorkOut
A luxurious, but physically challenging barre-fusion WorkOut. Our unique Fusion WorkOut formula develops strength and balance whilst delivering deep stretching and flexibility work.
30 mins